Store Front Pantry
The store front pantry is open 9-1 Monday through Friday. 

We

serve folks one at a time, so please arrive by 12:30pm to ensure we have enough time to serve you.  If the line is long, you may not be served.  One o'clock is a firm closing.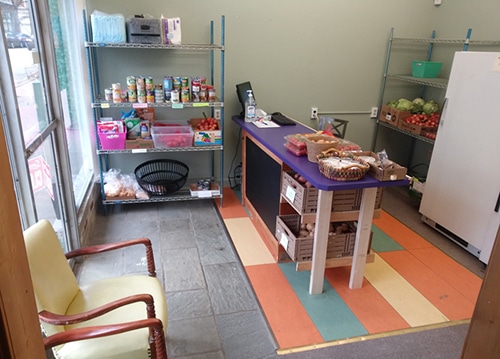 Our food comes from the Greater Pittsburgh Community Food Bank, Costco, Trader Joe's, 412 Food Rescue, Wood Street Bakery, Five Points Bakery, Market District/Giant Eagle, Wise Snacks, and Square Café/My Goodness.
We encourage families to eat fresh food, whenever possible: 60% of what we distribute is fresh fruits and vegetables. We also encourage cooking with lentils and beans, which combined in the right amounts can constitute a whole protein. If ready-made packages are not available, our resident vegetarian expert pulls things together himself. We provide recipes and, when possible, meal kits.
Through the Food Sharing Program, WCM leverages the contributions of several community and local business partners to provide emergency food, bread, soup, clothing, and other basic necessities, such as diapers and hygiene products to people in need.
Please see the additional information below about nutrition programs with federal funding.
The Store Front Pantry helps families through the following initiatives:
Emergency Food Pantry provides canned foods and such perishables as bread, meat and milk, on an as-needed basis to families in Wilkinsburg and the 15221 zip code. You must bring proof of residency and emergency food is distributed to families every other month.
Walk Through Shop distribution. Monday through Friday, 9-1, at 702/704 Wood Street. You can participate in this twice a week. Proof of residency requested but we will not turn you away.  This is an income based program, but you may chose not to disclose your income.
Holiday Food Distribution at Christmas or Thanksgiving, distribution of food and Giant Eagle vouchers to families. This is limited to 200 families, and signup sheets are provided in late October.
Hygiene and Personal Supplies can be provided for children and adults.
Clothing & Household. WCM collaborates with Christian Church of Wilkinsburg's "New to You" to provide children and needy individuals with warm clothes and home necessities.
Operation Backpack with Wilkinsburg elementary schools providing school bags and supplies for area youth.
We welcome you to learn more about our programs – Food Sharing and Operation Backpack – and to get involved in the Wilkinsburg community by volunteering and/or making a donation. We appreciate your support and interest in making our community a better place to live, work, pray, and play.
A Guide to Nutrition Programs with Federal Funding
The Supplemental Nutrition Assistance Program (SNAP), also known as Food Stamps, plays a critical role in the battle against hunger for children, seniors and families across our Commonwealth and throughout our Nation. For every dollar invested in this program, it is estimated that the economy gets $1.75 in return. The program fuels consumer spending while providing much needed nutrition for 1.7 million Pennsylvanians. SNAP benefits are doubled at Farmers' Markets.
The Emergency Food Assistance Program (TEFAP) provides the United States Department of Agriculture (USDA) foods and federal support to food banks and food pantries.
Summer Food Service Program supports childhood nutrition by providing free meals and snacks to children under the age of 18 at public and private institutions during the summer. This program can be accessed at schools that run summer youth programs, camps or other recreation sites. Unfortunately, thousands of children eligible to receive free meals during the summer months do not know about or take advantage of these programs.
The Special Supplemental Nutrition Program for Women, Infants and Children (WIC) is a vital program that provides low-income mothers with education, assistance and support to establish healthy habits and lifestyles for their families. Through the program, mothers can receive information concerning breastfeeding, as well as receive WIC food packages and vouchers for nutritious food. The WIC program in the 15221 zip code operates at Hosanna House. Another one operates at Westinghouse Human Services in Turtle Creek.
On January 20, 2016, the Senate Committee on Agriculture, Nutrition and Forestry unanimously passed the Improving Child Nutrition Integrity and Access Act, to reauthorize child nutrition programs. This comprehensive legislation would help to ensure that our most vulnerable children get off to a strong and smart start to life, in particular by extending WIC to children not enrolled in full-day kindergarten. The Act would also extend CACFP benefits to serve a snack in addition to two meals in a 9-hour day. This legislation did not come up for consideration before the Senate concluded legislative action for the 114th Congress.
Accessibility to affordable food is an ongoing problem!
In the United States, millions of American struggle with hunger every day, despite the fact that a tremendous amount of food that is produced in this country goes to waste. Food products are often discarded on the farm if they are considered "ugly" produce, if they are overproduced, if market conditions are unfavorable or if an existing contract or retail market is lost. To respond to these issues and feed the most vulnerable, U.S. Senator Bob Casey (D-PA) introduced the Farm to Food Bank Act. This legislation is designed to establish food recovery networks in each state to incentivize farmers to donate their product directly to food banks to be distributed to those in need. The bill would assist farmers and ranchers by reimbursing them for the costs to produce, harvest, pack, process, store or transport to food banks food that is safe for consumption but does not have access to a retail market or supply chain. Specifically, the Farm to Food Bank Act would:
Establish a Farm to Food Bank Network in a state or region by utilizing a non-profit's existing networks and infrastructure to aggregate, transport, store and distribute food.
Support farmers by reimbursing them for the costs to produce, harvest, pack, process, store or transport to foodbanks the food that would otherwise go to waste.
Support food banks and emergency food providers by supplementing the products that food banks receive through The Emergency Food Assistance Program.
Provide healthy food to those in need by incentivizing the donation of a wide variety of agriculture products including: fruits, vegetables, meat, poultry, nonamenable products (such as bison, domestic deer, pheasant, quail, or domestic rabbits), dairy, fish, eggs, grains, legumes, seeds or nuts.
Provide flexibility for states and tribes to opt in to the program and establish and manage statewide or regional systems that can respond to local needs.
Assess the level of food waste that is occurring at the farm level through a USDA study and report to Congress to evaluate the methods of measuring food waste, standards for the volume of food waste and causal factors of food waste.
This project extends a lot of the "food rescue" efforts focused on restaurants and grocery stores to save food that would normally go to waste. It reaches past the commercial distribution point to the production point, to salvage food that might be ugly (malformed, mislabeled) to channel it to food banks and food pantries.